dangilan@alaska.net
<![if !vml]>
<![endif]>
On the frontpage of ANCHORAGE DAILY, Wednesday, November 12, 1997.
Homegrown TV Strives for Filipino Unity
By Sheila Toomey
.....
The host wore a sheer white shirt made from pineapple fiber and offered his face to the makeup woman for a final primp. The theme music was cued, and cameraman Dan Concepcion raised his arm in warning. "Roll on five," he said.
The cast of "Fil-Am Showtime" counted down to another edition of the weekly news program about the local Filipino community. ( that the sheer white shirt the reporter is referring to is our "Barong Tagalog.)
The associations are good for preserving culture and the many regional languages that emigres bring with them from 7,000 islands that make up the Philippines. But it is tough for the community to present a united front, Juliette said, to deal with politicians and other city officials who don't have time to liaise with so many different groups.
The Danguilans beleive Anchorage Filipinos need an umbrella organization, a board made up of different representatives from the regional associations. Malcolm Roberts, assistant to Mayor Mystrom for minority affairs, agrees.
Mystrom and Roberts encouraged Anchorage Samoan groups to form similar board. "It certainly fits with our general hope," Roberts said. "If we and the police and the school district have a central clearing house to go to with the various communities, it is very helpful."
But Filipino politics are difficult, and unity is not easily achieved. Filipinos first came to Alaska in the 1700s as merchant seamen on fur trade ships, then as sailors with explorers and whale hunters, and more recently, as fishermen and cannery workers, according to 1996 history by Thelma Bucholdt. They settled from Southeast to the Arctic, often marrying Alaska Natives. Bucholdt estimates there are now 8,000 Filipinos statewide.
New to town, the Danguilans gravitated instinctively toward activist roles. Juliette was born into politics...now shes up to her neck in volunteer activities and serves on the Victims for Justice.
Nez has a flair for public speaking and is a past president of the Filipino Community of Anchorage, one of the 11 associations. Roberts met Nez two years ago at a public meeting called to calm high school feelings among Filipinos and Hispanics after a teenager died in a suspected gang killing. Raising children in an unfamiliar culture is a task many of the city's new immigrants find difficult. In the charged atmosphere of the meeting that night, Nez "used a roving mike and interviewed the parents, the kids, even the best friend, " Roberts said. "Some of the parents were very open and in tears, expressing their frustration with how to help their kids in an American city...It was an extremely powerful evening."
Nez and Juliette started the the television show nearly four years ago. "We hope this is the conduit to communication," Nez said. "We don't exclude anyone."
Guests include Filipino achievers, especially young people, whose good news has often gone unnoticed by the community at large. Other guests are invited to talk about difficult subjects, like AIDS.
Most of the show is in English, but it's sprinkled with an occasional Tagalog, a language many Filipinos speak in addition to their regional dialects. Nez closes each program with a Tagalog phrase as "Let's love each other always." But so far unity, never mind love, remains elusive.
"It will happen," Nez said. "It will happen."/End of News report


How about that our "Kailian" producing the TV show for four years now.


The couple wrote:
My name is Ebenezer I. Danguilan and my wife name is Juliet Arce. We are
both from Nueva Vizcaya. My father is Luis Danguilan of Solano, and so
are Juliet's folks. My father is the second cousin of Dr Vicente Danguilan and the first cousin of Thomas D Guyago.


Nez/Juliette Danguilan.
Anchorage Alaska.
dangilan@alaska.net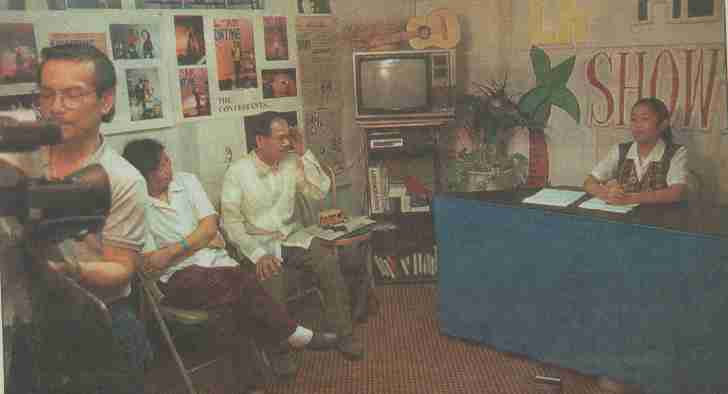 Alaska Pilipino TV